ANTI-M
Anti-M is an ever evolving collection of musicians with a vast assortment of musical influences.
Each project is spearheaded by Anti-M Co-founder John "Wedge" Wardlaw. Each album features returing members as well as guest musicians including Ronnie Montrose who played on the bands second album, Positively Negative. From electronica to metal and female fronted gothic rock,
Anti-M continue to expand their musical horizon.
---
Originally the band was founded by a trio of Keyboardists, Wedge, Ruston and Mark, along with Portland Oregon Guitarist Steve "Salty" Weber. The bands first album, a synth heavy concept album called NO WAVES IN HELL was supposed to be a one time project, a concept album to go along with a series of music videos that tell the humorous story of a surfer who
dreams he goes to hell.
---
| | |
| --- | --- |
| | Positively Negative got it's title from the upbeat (Positive) song textures written by Ruston and the Dark (Negative) lyrics written by Wedge. The retro sounding album sold well and featured several guest musicians including Barbara, who would later become the bands lead vocalist on the album Damage. Guitarist Ronnie Montrose plays on 6 tracks on the remastered version. |
---
| | |
| --- | --- |
| | Damage saw a change in style with more female vocals and a darker sound. It has been described as more gothic or darkwave and features harder guitars. Reviews mentioned influences by Metallica, Within Temptation, Lacuna Coil, The Gathering, Beseech and Garbage. |
---
Anti-M has provided soundtrack music to the films
HAWAIIAN SURF STORIES and
YOU ONLY DIE ONCE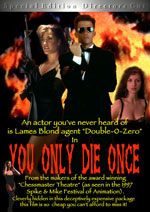 © 2019 Anti-M / Topographic Productions
The Wedge Productions